It is indeed a fact that Professor Akin Oyebode is an "interviewer's delight". In this interview with DNL Legal and Style, the erudite Professor of International Law and Jurisprudence gave a no holds barred insight into his early life, career, his enviable achievement as a passionate and excellent academic as well as his retirement plan. Prof's humility and mien mesmerized us. Enjoy:
DNL L&S: Tell us about your birth and growing up sir.
Early Life
Prof. Oyebode: I was born in Ado-Ekiti on 9th December, 1947.  I am of Ikole extraction. I grew up in Lagos and I went to primary school at Ikeja District Council School. The school used to be behind Archbishop Vining Memorial Church. Because we are Ekiti people my dad and my uncles went to Christ's School  Ado-Ekiti and it became a tradition for us to attend secondary school there. So at age 12, I had to go back to attend Christ's School Ado-Ekiti. Except that my kids refused to go to Christ's School. They all went to school here. The boys to ISL and the girl to QC same school as her mum.
Few things I remember while growing up; the Queen's visit in 1956. I was a boy scout, so I was one of the people who went to herald her in. We donned our boys scout uniforms and stood along Oba Akinjobi road in Ikeja, waving the Nigerian Flag. Another was that growing up, we lived in the GRA which was then known as Colby Avenue. We were about four African families in the entire GRA. It was white all through. I had a friend then who worked for the British Overseas Airways Corporation as an Engineer who used to take me on his sports car to the Lagos Country Club. Then the club was located at the place where the Murtala Muhammed International Airport is presently located. That country club interestingly did not admit blacks except as cooks, stewards and gardeners. I remember my British Overseas Airways friend would go into the club and buy me chocolates and fruit gums and return inside to enjoy himself while I wait outside for him. When he was done, he would drop me back home. There was serious discrimination then, during the colonial era.
Deciding to study law; a twist of fate
After I left school, I worked for the Nigerian Broadcasting Corporation Ibadan as a Radio Announcer cum studio manager. At that time, before your 6th form, and going to the university, you worked. So I worked for 9months at the NBC. During that time in Ibadan, I had applied to go to University of Ibadan (UI) because if you were hot then, you went to UI. I fell in love with Wole Soyinka who was the Director of the School of Drama in UI. It was because of his influence that I applied to read English and Drama. I got admitted, had a room allocated to me in Mellanby Hall and then had already negotiated and paid deposit to purchase a bicycle. Students rode bicycle then, unlike now that you have Posh cars. But something happened that changed all my UI dream.
I saw an advert in the papers asking for application from people that had two 'A' levels for recruitment into the Nigerian Institute of International Affair (NIIA). Because I had four 'A' levels, I applied and was called for the interview. The then DG of NIIA late Dr. Lawrence Fabumi who was on the interview panel said to me, "young man, we hear you are going to UI, why UI?"  I told him my interest. He then said to me, "maybe you don't know me, I am an Ekiti man if you ask for a BA English there are so many, but international law? You might be the first and only one. So, if I were you, I will forget English. This is a chance for you in a million to go and become an international lawyer."  I was only 19 then but those words from Dr. Fabumi changed my life. I listened to him and three days later I was air borne. My father was abroad so there was nobody to consult except my girlfriend then who gave her consent hoping that I should be back in three years to marry her. 
And the Great Journey Began!
I ended up in Moscow. It was in Moscow that I sent a post card to my father who was then in Denmark. The man nearly fainted. He asked what I was doing at Moscow and I told him. So he wished me well. From Moscow I was parceled out to Kiev because Soviet then sends Nigerians to different destination depending on what you wanted to read. So I ended up in Kiev State University reading international law. In Kiev, I had five 'A's round, so my name was inscribed in gold in the school's roll of honour where names of distinguished Alumni were immortalized. I was the first foreign graduate to have his name inscribed in the permanent roll of honours in the school. I also finished my LLM in Kiev with the highest distinction, a rare honour, so I was what they called an "Otlichnik."
I finished and came back home and ultimately ended up in the Faculty of Law University of Lagos (UNILAG) way back in 1973. I was appointed an assistant lecturer. The first Soviet trained lawyer to be appointed to any faculty. My Dean then Prof. Kasumu SAN had faith and confidence in me and he dared to admit me to teach law, but for three years they were not sure of what knowledge I had. They thought may be what we studied there was "Guerrilla warfare" so they did not assign me courses to teach. I got very angry and told Prof Jegede then that "I came here with a passion to teach but you are not giving me any courses to teach, I will make myself available to students and give them lecturers for comparison." He said he thought I was going to the Law School and I responded that I was not interested in Law School.
In summary, Prof. Kasumu was instrumental to my going back for my LLM. He assisted in ensuring that I went to the best school. So, I ended up in Harvard Law School. Harvard was another experience. It was such a challenging place. The school will constantly tell you that you cannot make it and you must assure yourself every day that you are going to make it. Harvard did not accept me for doctorate after my LLM, probably because they thought maybe I was too Marxist or something. So I came back home to continue teaching. Ultimately, I became a senior lecturer way back in 1981.Then Professor Omotala who was my Dean encouraged me to go back for my doctorate because that was the ultimate in academia. I proceeded to Toronto and got admitted to the best law school in Canada; the Osgoode Hall Law School of York University Canada. You can see I have this funny background of having studied in Kiev, Boston and Toronto for my Legal Education.
Foundation Dean; Rescue Vice Chancellor
I was in UNILAG until 1991 when the Vice Chancellor of the then Ondo State University (now University of Ado-Ekiti) came personally to my house to appeal to me to come and help the school establish the faculty of law in the school. The man did not give me an opportunity to say no. While I was still processing the offer, he was already wooing my wife, telling her how he would take care of us and how the environment would be secure and serene in Ado.  That was how I ended up in Ado-Ekiti. We established the faculty of law and I stayed there for 5 years until we produced the first law graduates. UNILAG was very kind and generous to have allowed me to wait until the first set finished. We succeeded in putting 52 lawyers to the Law School. I had 8 second class upper in the first set. They repeated the feat in the law school. Although, for me, Law School is a cram school where all you need is to cram and get the needed licence to appear in court. It is not an academic institution.
After being the foundation Dean of Law in Ado-Ekiti, the then Governor Niyi Adebayo asked that I help to rescue the University. That was how I was appointed the Vice Chancellor of the University and I was there for four years until Governor Fayose came and our chemistry didn't gel. I had to return to UNILAG.
DNL L&S: Casting your mind back to your time in University of Ado-Ekiti, and then the experience in UNILAG over the years and now, what would you say was the most challenging  experience you had in these two institutions having worked extensively in both? May be a comparative analysis
Prof. Oyebode: UNILAG is 55 years old and a first generation University with well-developed campuses. The challenges are different. By the way, I also taught in University of Ibadan. I used to commute between Lagos and Ibadan every other week. University of Ibadan also had its own peculiar challenges. In Ibadan, I had the likes of Niyi Akintola, Alex Iziyon and a few other Senior Advocates of Nigeria at the Faculty of law then. They were more matured. Many of them had degrees in other fields before coming to study law.  The same subject I taught in UNILAG was what I taught in UI but the absorptive capacity of UI students was more than that of what you may call the teenyboppers in UNILAG. Those were matured people who sometime had masters and what have you before coming to study law.  It was interesting. That's talking about UI and UNILAG.  
A Little Arrogance Helps…
University of Ado-Ekiti was located in the middle of nowhere.  It is not even located in Ado-Ekiti.  It is closer to a village called Iworoko.  The challenges were many, especially provision of municipal facilities like water, power, telephone.  It was a big challenge to be in Ado-Ekiti. I had to rig the mast in the VC's office and have it connected to my car, just to connect with the world.  So, I thought of the students and how they cope.  Luckily, my sibling is a Director with MTN, so he spoke to the Managing Director, Adrian Wood who came to Ado-Ekiti and installed some bamboo held antenna for the students with a generating set to service it. So, my students could make calls to their parents within the precinct. Going to school in Ado-Ekiti was challenge and that is why I said that those who went to the school should have been exempted from NYSC because they have done more than the call of duty. They go to hell and back.
I remember an incident that happened when we had problems with power and the students came to confront us. They brought lanterns and rechargeable lamps and had banners with inscriptions "Is this how Harvard treats its students?" trying to embarrass me. So, I asked them; "Do you pay the fees Harvard students pay?" I said to them "Your hostel fee cannot even fuel my official car". So, they said I was arrogant and I said, "a little arrogance helps here". I came from UNILAG just because I am from here, like a missionary and encouraged by my dad who would always ask you to help because of the joy derived from helping the people. I did not have any business being here. That was just a few of the challenges I had in Ado-Ekiti.
As a Vice Chancellor in Ado-Ekiti, I was also teaching about three courses because then, I was the only Professor of Law in the University and I felt it would be unpardonable for lawyers to be produced and not have experience with a law professor. But I also had a crop of dedicated staff who joined the institution. In addition to that, I used to come to UNILAG to ferry some lecturers to teach in the school. They come over the weekend, did marathon classes and returned to Lagos. We were lucky to have people to assist. It was difficult because we wanted to create a faculty of law that could favourably compete with any other faculty of law anywhere.
Managing Poverty
When I became the Vice Chancellor, I saw the new task as management of poverty because the Ekiti Government did not have enough fund or allocation and the allocation never came early. What I did was to approach few of my friends who were MDs of banks in Lagos for overdraft facilities. We went into relationship with banks like; National Bank, Omega Bank and Wema Bank. So before the State supplies allocation, I made sure salaries were paid and we then replenish when we have the allocations. In Ado Ekiti, the good Vice Chancellor is the one who can pay salary. I said that should be the least of my concern because the job of a Vice Chancellor is not just to take money from treasury and bring to the bursary. Even a school leaver can do that. I reasoned that as a doctorate degree holder I should be able to turn things around. So we created an Internal Revenue Generating (IGR) Unit and we saved money and also invested. I bought shares in blue chip companies like Guarantee Trust Bank, Access Bank and others for the University. People were saying let us spend but I said we cannot spend, we are not a Federal University, we do not have money and the little we had from the IGR we should husband so that we don't eat everything up. The real challenge I had was running a University like that.
And UNAD Law Library got the Best  Canadian Law Collection…
We did a lot in Ado Ekiti. My younger sibling was giving 2 copies of NWLR every week to the school; my late father who was a Rotarian used his influence to attract a donation of a whole big library of law books by one of his Rotary club member from Canada. The whole library was shipped to Ado Ekiti and they are still there. So the best Canadian law collection in Nigeria is in University of Ado Ekiti. I was so concerned about making sure that those kids had books. This has been consistently appreciated and it was worth all the stress and sacrifices. Even at my 70th birthday, Ogbeni Rauf Aregbesola who was not even there and was not even a student of the University was still extoling our efforts 17th years after. He said what we did in Ado-Ekiti was indelible. I think that, more than any other thing is the real joy for me.
So my response to your question; you cannot compare UNILAG and UI to University of Ado-Ekiti. Ado was a totally different ball game. The sociology of the environment is different, the quality of lecturers too, because a student is as good as the lecturer he had. I always tell my students that a lawyer is as good as his library. I left Harvard Law School 41 years ago and it had 99 libraries. The law school alone had 4 libraries. The main University Library had 41 ½ million volumes.  "Oyibo" knows that knowledge is power. I tell my students that instead of drinking "gulder", they should invest in books.
What actually helped me a lot in Ado was that prior to going to Ado, I was one of the professors that Governor Jakande of Lagos State appointed to design a Program for the Faculty of Law Lagos State University (LASU). It was Prof. Adeogun, Prof. Obilade and my humble self. We wanted a program that was superior because we all came from UNILAG and knew the deficiencies the British syllabus had. It was before the homogenization of standards by the National Universities Commission (NUC). So, LASU had a superior program which was luckily implemented by one of those that designed it; Prof Obilade. So, when the students of LASU started flying higher we were not surprised because the whole idea was; "if you have the opportunity of starting a law faculty, you should enrich it." LASU was not just a replica of UNILAG, it had more. This informed the connection between LASU and UNILAG. We always see LASU as our baby. So, with the way God enabled us to do so much establishing faculty of law in LASU, when I became Dean of Faculty of Law Ado Ekiti it made life easy for me.
DNL L&S: You are not a fan of private practice and you have not hidden that fact. Would it be right to say academics for you is the hallmark of legal practice? 
Going to Law School 16 years after LLB 
Prof. Oyebode: As I said earlier, we are a product of our environment and experiences. If you are in academics, you should do the job with passion. You should not compete with practitioners. At best you can play the role of a Jurist Consult like in the ancient world. If lawyers have problems, they should be able to consult you. You are Of Counsel. Practice is not well developed here, where you bring a professor to be Of Counsel in your law firm as a consultant. So, I don't believe that lecturers should be ambulance chasers competing with practitioners.  For 16 years I did not do the bar exam. It was Prof. Jelili Omotala who bought the form for me and bought what you call the Oyebode exemption. Then Dr. Elias was Chief Justice and they did not believe that Soviet trained lawyers had anything to offer. They forgot that Vladimir Lenin (Full name Vladimir Ilyich Ulyanov) was a lawyer. They also forgot that Russians are Europeans and Europeans imbibe their concepts from Roman law. I studied Roman Law in Russia and as one of my Roman Law Professors used to say: "if  you know Roman law and logic, you can practice law anywhere in the world."
A Lawyer who had no wig and gown
The thing is that I was not attuned with the practice of law, even though I was called to bar 26 years ago, I lost 16 years of seniority and up till now, I don't have a wig or gown. I borrowed my sister's wig and gown for my call to bar. We are 9 ½ lawyers in our family but I am, may be one of the relatively junior because I did not go to law school and my younger siblings became my senior at the bar.
Having said that, I think our parts are cut from one another. If you want to go to practice to succeed and make a lot of money and then attain the zenith, you would need what I call the highest accolade of "Senior Advocate'" which is just like the British QC. In a place like Canada, academics were invited because it is honorific. One thing I detest so much about the whole rank of Senior Advocate of Nigeria here is that you have to apply in order to be recognized and you pay about N600,000 to buy the form. It is ridiculous. In the universities we do not purchase honour. And even when a professor retires and he merits it, he would further be invited to come and become a Professor Emeritus. The first Professor Emeritus of Law we have is Professor Ijalaye. He is still there conferring legitimacy on proceedings.
I think you can be a successful academic and you do not need to be looking for extra income in practice. You should be consulted because you are an expert. The highest accolade I have had in this job was when the African Union commissioned me to draft a treaty on Trans-border Cooperation in Africa. I had to shuttle between Addis Ababa and Lagos. The treaty has not been signed but it is a thing of pride that it is a Nigerian lawyer who drafted the treaty for the whole of the African Continent. That is something money cannot buy. So a Jurist Consult, at best Of Counsel is the type of things I can do. In fact, right now a new policy has just been introduced that as a professor of 15 years and above, you can retire with your salary for life. Luckily, I became a professor in 1991 which means I am going to earn my salary for life by the grace of God. So we need not bother about what to eat or what to wear like Jesus assured his followers and for me, I have little responsibility now, my children are grown and my needs have become minimal. I am comfortable and contented. I do not need any more stress.
One Akin Oyebode, One Court Appearance
I pay my practicing fee regularly but I can only go to court as an Expert Witness. The only time I ever appeared in court as a lawyer was when ASUU had a case against the Federal Government. It had to do with the enforcement of a Collective Agreement that we concluded. I appeared before the late Justice Kayode Eso who was the Pro Chancellor of University of Benin. Professor Nwabueze the Education Minister had said Trade Union Agreement is at best a gentleman agreement which is an imperfect obligation and we were to respond. We prepared a 37 page brief and when we argued our case, Eso was convinced and upheld our submission. In anger, 2 hours later Prof Nwabueze fired him as Pro Chancellor of UNIBEN. That was the only time I went to court.
I am not against practice but what I say is; chose one and do it with devotion. Some argue that practice helps in teaching. Well, I say that is a self-fulfilling argument being canvassed to legitimize their quest for extra income. Although I agree that if you are teaching courses like the Law of Evidence and Criminal Law, you would want to be abreast of developments in court but that is about it. The two quotas or thereabout allocated to academics for the rank of Senior Advocate of Nigeria, I have not tried to take the benefits and I would never try to. My children are angry about it. They say we need it and I said no I am not interested. My younger sibling who has the largest law firm in Nigeria also says he is not interested in SAN. He said if they have Senior Solicitors of Nigeria he may be interested. And really, litigation is tedious and not as highly rewarding except you are a SAN.
Teaching; A Vocation not an Occupation
I am not enthused by practice. I have not applied for Silk and I will never apply for Silk. The highest you can get to in a university is professorship. Once you become a professor, every other thing is icing on the cake. Though in my faculty we have four SANs, but each knows where it's itching. There are other people I have written references for their SAN. I have taught more than 60 Senior Advocates and about 35 Law Professors. That is my fulfillment. The Vice President Prof. Yemi Osinbajo who was also my student says it all the time at any gathering where I am. He would say, I will just dangle my bunch of keys and teach without script. Apart from him, former Senate Leader Ndoma Egba was also my student, Odien Ajumogoboa, Former Minister of Foreign Affairs too. Wale Babalakin never tires of saying how much I changed his life. He is now my boss as the Chairman of Council and Pro Chancellor of the School, a very genial and humble person. I think the joy of a teacher is finding your former students excelling in all aspects of life. Why should I compete with them? Teaching is a vocation not an occupation. You must really be worded to the idea of transmitting knowledge from one generation to another because some teachers thought us too and they inspired us too. Just count me out of legal practice.
DNL L&S: Do you support those who clamour for the abolishment of the Rank of Senior Advocate of Nigeria (SAN)?  
Title or Texture of Gown does not make a great Advocate
Prof. Oyebode: I have interacted with Pa Gomez and a few other people on this issue. So I am aware of the body of opinion of people like him, Tunji Abayomi and a few others. My good friend Femi Falana applied about 8 times before he was conferred with the rank. It is ridiculous. For Festus Keyamo, I do not know how many times he applied, even Chief Gani Fawehimi of blessed memory. So it has become something like a cult and if the "Mafiosi" and the "capo di tutti capi" do not recognize you, they do not admit you into the conclave. People use the rank as a sword to tyrannize. It is not a tool to protect but has become a self-serving self-seeking and self-opinionated people who just want to wear silk gown and sit in the front row or what you call the inner bar and have their matters mentioned first before others. It gives a false aura of superiority over other lawyers. Your being a great advocate is not dependent on the title or the texture of your gown. If you do your work well, people will see that a new star is born. So I am not fooled by this but I do not begrudge anybody who gets it. "Learned Silk", that language is not used in the jurisdiction I know and they are also common law jurisdiction. I think as Nigerians we are a very peculiar people. If you are distinguished, your eminence would exude. You will reflect it not because of the honorific title. I think it is a surplusage for an academic to be a professor and a Senior Advocate. Being a professor is enough.  Some of the Senior Advocates of Nigeria appointed recently have done little honour to the title. It is something like a brotherhood, full of all manners of thing. There is also inbreeding from some families, so it just rotates around them. However, there are SANs and there are SANs. A lawyer's strength is shown from the way they marshal their point.
DNL L&S: The common feelers now are that the standard of lawyers being produced has fallen as against what it used to be. This has been attributed to the poor performance of young lawyers in offices. If you are to give specific advice to probably the young lawyers and to the people who are responsible for moulding them, what would that advice be? 
As Optimistic as a Professor Practicing His Vocation … 
Prof. Oyebode: It is difficult to force the genie inside the bottle. But I must say that it might be an over exaggeration to say that the quality of lawyers today is inferior to what lawyers used to be. Students of today are more widely exposed. They browse the internet; they are better prepared for legal education than lawyers of say, 20 years ago. What might have given the impression that today's lawyers are not as well prepared as the previous generation is the explosion in numbers. When I joined UNILAG 44 years ago, we had tutorials. That was where we got to know students better and they were about 16 maximum for each lecturer.  I remember I would put out the readings and the questions on the door for them to go to the library to research and then come for tutorials. During tutorials we discuss intensively and intensely and it was a weekly affair outside the normal lectures. It was at the tutorial level that the nitty gritty work is done. We do not have that anymore because we do not have facilities to provide such opportunity for over 300 students. Attempting a tutorial now would be a joke.
Again, the students then showed more commitment because there was competition among them but generally on this campus what you find is either students brandishing their sexuality or all sorts of rascality. No serious minded pursuit of excellence. That doesn't speak just for law students. It speaks for everyone.  Another influence is social media. They write exams now with text message language. We tried to introduce legal research and writing so students can know how to do research, but this has not gone a long way because of lack of commitment on the part of the students.
I do not practice but I have had that complain too. One of my former students said to me he cannot employ any graduate from UNILAG from the last 10 years, I said but you went to UNILAG and he said yes but he won't hire them. I asked why and he said they are just not "it" I said what is the "it" you are talking about? These are people who are exposed and they bring the exposure to bear on acquisition of knowledge. I did not know the jury is still out on that issue as to whether today's lawyers are inferior to the lawyers of those generations.  But I would say this; it is still from these young lawyers that they are getting their SANs. If you say they are not doing well and every year they are still given those accolades. Then they must be getting certain things right. Also, students are a bit younger now. My wife was reminding me earlier today that our son graduated at 23. My student who is Justice of the Court of Appeal now, graduated at 20. In fact, her son has just been made SAN she was in my class and she is still hot. In practice if you see the ones who are very good, the one Yoruba people call "Akoni niwaju Adajo" you would know, just like students they give the nick name "Prof". So, the beauty of the profession is that it is an open ring. There is nowhere to hide so you take the jabs.
I don't know about the quality people are talking about. People still finish here and go to the best universities in the world and excel. I still write references, I speak of UNILAG. I had a student here who made a first class, he went to Oxford and now he is going to my school in Toronto for his doctorate.  They can compete anywhere favourably. It means that we are getting something right. So, do not let us throw the baby with the bathe water. The young people are strong but they are more in number, so it is difficult for them to excel to be seen. The advantage the older ones had was paucity of numbers. When I joined the university in 1973, during tutorial because they are fewer we could interact better. That may have impacted the quality of learning but in terms of capabilities and capacity; I think these students can give anyone a fight if push comes to shove. Yes, I do not underrate these young people. They are the judges, my former students are in the Supreme Court, Court of Appeal, High Courts and Magistrate Courts. They went to the same school and read same books and were taught by the same lecturers.
For the lecturers, you might say some lecturers are not up to date but not in a fine class. Because these students would do their home works before coming to lecture and when the lecturer talks nonsense somebody would challenge him. When I was teaching people like Taiwo Osipitan SAN 100 level, he gave us hell in legal system. Taiwo wrestles with lecturers and I said then that this boy will go places. At 100 level when you should be fearful of lecturers. So, we should not just make general blanket statement. Standards are falling, measured against what?
DNL L&S: We know that this is about the beginning of your statesmanship. You have in the past commented a lot about the state of the nation. Just in summary what would you say is the most important thing that should happen for one to say we are beginning to transform as a nation?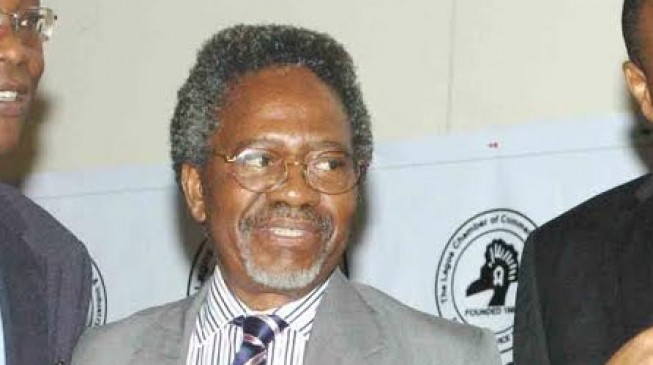 Prof: Oyebode: It is very difficult to put an accent on the state of the nation. Let me make a confession right before you. Nigeria has been underperforming. We have not reached where we ought to be because I told you I was 12 when Nigeria became independent. We had great dreams of an Eldorado. They killed big cow in my school and we had a feast. They gave us flags and medallions and we thought Nigeria was going to be transformed. Imagine a 12 year old form I student in 1960. Nobody envisaged the coup of 1966, the civil war and then the oil boom which became an oil doom and then all these expectations as a teenager have not been fulfilled. It is not a very happy thing to say. Wole Soyinka spoke about a wasted generation, in our case I think we are a lost generation, lost in the miasma of under development.
Power Supply as a Measure of Civilization
If you ask me one singular thing Nigerians should do to transform. There is no silver blanket. I will just say that the problem of Nigeria is multifaceted but power is so basic. Generally, power is the measure of civilization. When there is no power, you are helpless. I heard someone on a Television program saying Nigeria has the highest number of power generator in the whole world; it is a sad commentary that we cannot guarantee 24 hours power supply anywhere in the country. Even Aso Rock has budget for generator. So I think power is the most critical thing that we have to get right. The other things like corruption are also very important to tackle. I just came back from Abuja where I gave a key note address on corruption. Corruption is an old endemic problem. I used to say that if we do not stop corruption, corruption will stop us in Nigeria. President Buhari adapted that to say if we don't kill corruption, corruption will kill us. And Buhari, he has done his best although people are saying his best is not enough and that is because it seems there is no real strategy to fight corruption. I recall saying that those who are found guilty of corruption should be locked up and the keys to the jail thrown away. You cannot go to the extreme like China but you have to take some measures that are pragmatic.
Quite sincerely, we have to be conscious of our role in the global scheme of things. We are the world's largest concentration of black people, so if Nigeria fails, the rest of the African Countries have failed. We need leaders that have imbibed this notion. What Zik used to call a manifest destiny; a destiny to lead the black race if not the world. We just cannot continue to do things the same way and expect a drastic change in our affairs. What separates a backward society from a well-organized society is certainty. You must be able to organize and plan your affairs. We must make life livable and make dreams realizable and visions achievable within the society so that we do not lose all. What is happening in Libya is a slight on all of us. I do not care what you attain in Nigeria; the fact that we could treat people like slaves is a massive calamitous imprint on our consciousness as Nigerians. You cannot say you have achieved anything when the whole country is in tatters.
That is why my hope is that Nigeria and Nigerians will decide right in 2019 because if you do not get the right leadership, you cannot get anything right.  Achebe once said that the real problem with Nigeria is leadership. If you do not get the right leader, nothing else would be right. It is not a problem for you and I alone. It is a problem for the society. We have to increase our level of consciousness to enable us plug the holes of our national existence. No man can do it alone. It is a collective effort but I want to be optimistic and believe that we would get there, may be during the time of my grandchildren because we blew our own time. We couldn't deliver but these ones are exposed and have been conscientized and may not accept the kinds of things we lived with, so I believe they are going to move this country forward. That is my hope and aspiration.
DNL L&S: The Sting operation metamorphosed into the arraignment and prosecution of some judges.  As a fall out, there has been a recent ruling by Hon. Justice Akintoye which was appealed. Now the Court of Appeal has given a judgment which many believe is the Judges way of trying to guard and protect their dignity. This has brought two strong positions. While some say the action of the anti-graft agency is important to sanitize the nation including the judiciary itself, others believe it is an affront by the executive on the judicial arm. We want to ask sir, on which side of this divide are you? 
Be you ever so high, yet the law is above you 
Prof. Oyebode: I have spoken on the sting operation previously in my commentaries. You invoked the memories of people like Justices JIC Taylor, Oyemade; judges that are beyond reproach. I would say that some of the allegations against these judges are despicable, highly reprehensible and unacceptable. Only last week my former student who was a chief judge forfeited about 50million naira. He was a fantastic guy. The point one is making is that one of the tenets of law is that "Be you ever so high, yet the law is above you". That was Lord Denning in the case of Gouriet and Union of Post Office Workers & Ors. Nobody is higher than the law including the judges themselves. The law applies both to the judges and to the rest of us. But because they are placed on a higher pedestal, even when you look at the architecture of the court room, the judge's position is higher than that of rest of us. That was deliberate and that is why they "hand down" judgment. They do not descend into the dispute. They are revered. But when they desecrate that high and lofty position, then of course men and women of good will should cry havoc.
I gave a paper to NBA in 1992 before they started throwing chairs in Port Harcourt. The title of the paper was "Is the Judiciary still the last hope of the common man?" and when you read the piece, you would see my position. Our judges no longer function as the last hope of the common man and that is why many people resort to self-help. I think we are at a cross road in terms of dispensation of justice by the judiciary because once we lose confidence in the judiciary and we now know that some judges write two judgments depending on the envelop that is bigger then, it is a problem. There is desecration of values in the country generally. People are no longer shocked by misconduct and as I said earlier, we have to recover our lost values and if judges are cut with their hands in the till, then we must strip them of that venial of immunity. The constitution is clear, they do not have immunity. The category of those who have immunity is clearly stated in the constitution of the Federal Republic of Nigeria. So, if judges are found wanting or conduct themselves in an untoward manner then they must face the music.
If we continue the way we are going, and they now descend into the case and you start hearing "have you seen him" it means our judges are compromisable and when judges are compromisable it makes even the job of lawyers more difficult. It means you would lack the ability to attempt to predict what the court would do as in "Realist Jurisprudence" when you can look at the facts of the case and be able to predict. Of course a case can be decided differently depending on the ideological predilection and attitudinal chemistry of the judge but there is a presumption that judges are going to be fair minded but once you manipulate the judge to do your bidding, then the whole society would crumble. Look at Justice Ademola, his grandpa was a Chief Justice of Nigeria, his father was President of the Court of Appeal, it doesn't get any better in terms of antecedent but look at what has happened, so much money that cannot be accounted for? I have also read some of the SANs arguing that gift is allowed because we are Africans. Come on!
You are the lawyers of the next generation, you must make sure you sustain the system so that the roof does not collapse on all of us because once nothing is held sacred anymore, everything can now be organized and manipulated and you can "see the Judge", no fidelity to due process of the law then it is a disaster. I would insist on fidelity to the rule of law and the rule of law doesn't suffer those exceptions. The judges swore a judicial oath to do justice to all manner of men without any fear or ill will so at the end of the day, when he hands down his judgment we would all be relieved that justice has been done.
Justice is in the eye of the beholder but to ensure that justice is done there should be independence of the judiciary and the judiciary should uphold the expectations of the society. In court, you do not want to see the judge as a human being; he is representing the epitome of justice. That is why he finds after consulting the oracle of common law. He doesn't own up to making the law. There are all sorts of presumptions but the most important is the venire of impartiality, objectivity and public policy. The impropriety of our judges brought this to the fore so, I do not sympathize with any judge who has gotten his just dessert. I am not sorry for them because as you make your bed so shall you lie on it. It is a sad development but we still have capable judges who are sworn to their judicial oath and who would fulfill the Roman injunction "fiat justitia ruat caelum"  "let justice be done even if the heavens fall" and Justice Oputa reminded us that "if justice is done, the heavens will not fall, the heaven would indeed rejoice". You the younger lawyers must ensure that you are courageous to stand for what is right and what is fit and proper.
Let us talk about home front sir. You met your wife through a blind date and you have been married for 38 years. Two questions come to mind, one is just to satisfy our curiosity and the second is important to young ones like us.  How has the experience been with your blind date after these years?  Secondly, against the backdrop of the number of divorce today even among new couples, what is the one thing that can hold couples and minimize collapse of marriages especially young marriages? 
Measure him/her right 
Prof. Oyebode: If it was just mere collapse of marriages I would have said no problem, people can go their separate ways if it is not working. But we now have incidents of murder! Wives murdering husbands and husbands battering their wives. It is again the collapse of values. If you want my own personal experience, I think what sustains a marriage more than anything else is, understanding. Once you know your partner and what I call the attitudinal chemistry of your spouse that would sustain your marriage. Young people these days are in haste, they are not interested in compromising and ensuring that they make a success of the effort. Marriage is an experiment. You try to iron out the rough edges of your relationship so that you can have something to celebrate. There is no recipe. I do not have any formula but I put it down to understanding and trust. If you do not have trust and confidence in your partner, you are laboring in vein.
However, I really would like to say that what seems to be putting so much stress and strain in marriages especially young marriages these days is the hardship in Nigeria today. Cost of living is so high. How much do people make? A new car is difficult to afford. I remember in my days as a young lecturer, my first car a beetle cost me N3,216.00. Today, I can tell you that the four tyres of my car cost about 300,000. Also, there is tremendous social pressure on young couples. Look at the architectural statements in places like Lekki Peninsula, Victoria Island Extension and Festac Extension. So, there is considerable pressure on young couples to meet up.  These people as I said have too much pressure and in the processes, they go into arguments and counter arguments up to exchanging fisticuffs visiting their frustrations on one another. Another problem is that young people now fall in love with glamour. People do not take time to know each other before marriage.
My advice to younger Nigerians would be Lauren Hansberry's statement in a play called "Raisin in the Sun;" "you measure him/her right". People should measure their potential spouse right. Know the person you want to spend the rest of your life with. It is difficult. I am not a marriage counselor but I understand because I have been reading in papers what you are saying especially these glamour marriages. Within six months they are having problems, but we have not gotten so bad at least not like Americans where you now have lawyers called Divorce Lawyers. The only thing they do to sustain their practice is divorce. But I am saying the rate of violence among couples, physical assaults leading to death is very worrisome. It threatens our social stability and is also a manifestation of collapse of values; the old sentiments that held us together are gone. Young couples should understand that challenges must come but you must have the ability to transcend the challenges of living together.
Coming back to my family, my wife and I have been married now for 38 years. We have three kids by choice. Luckily, they are all success stories. They have not given us pressure so to speak but again everybody to his own issues. It is true my wife and I met through a friend and she decided to marry me. I was just a lecturer while she was a teacher. I remember her father my late in-law asked me the first time I met him "what are you about?" He felt happy to meet me as a lawyer because he was also a lawyer. He asked questions. It is called due diligence. You must know who your prospective in-law is, in terms of reputation and prospect. I would check out who would marry my daughter. After 38 years of trying I would say no regrets. It is luck. You can ask her (referring to his wife) if she has any regret. You can only ask the Almighty for help
We have just about one week into your retirement as a Professor of law who has lived every day of your life impacting others. You have done extremely well in your career as a teacher! What are the immediate retirement plan for you sir? Are there callings for other appointments or do you just want to be at home and enjoy this time out? 
Akin Oyebode Jurisconsult et al 
Prof. Oyebode: Well, to put it bluntly, I have an appointment already to be a professor of law and founding dean of a faculty up country. I have not accepted and of course again it might cause some dislocation. I did that in my younger days leaving my wife here and going to Ado-Ekiti. I know the sacrifices she made. Even the food I was eating was from Lagos. She would cook and the driver would bring them to me and I put everything in the freezer. So 25 years ago we could do all that but now I don't know. Just one offer to be a professor but that offer came before the recent development of earning my salary for life. So if I am going to earn my salary for life, how much does a man need?  If I am going to continue to earn my salary until I die, then I might not need to go up country or anywhere else. Again my wife told me recently that whatever I resolve to do, I would still need an office because she knows with a passion that even if I don't practice, I would need an office even if it is  to read newspapers. So, we could have an office and put a shingle out "Akin Oyebode Jurisconsult." I don't have a wig or gown and I don't plan to go chasing ambulances now at my age but if people feel that they want to consult I would be available.
Again I have two grand kids who are quite young so even getting to sit down with then and just spend quality time is also part of the plan. Then I might write a second edition of my book. I want to do a book on jurisprudence to document my experience. The proposed title of the book would be "Thinking About Law". Trying to show how people have contemplated law across the ages. Then of course my children said maybe I need to do an autobiography. They wanted it during my 70th birthday celebration but I didn't have the time. But I have promised to write at least my memoirs. If I cannot do autobiography like what you did here today, then I can just write about my experiences in Ado-Ekiti with the title "Managing Poverty: The Travails of a Vice Chancellor in Ekiti Land", because it was tough. With regards to the Government Assignment you mentioned, one professor of medicine after the senate gave me a standing ovation came to meet me and said "Prof, please don't go into politics o". I said "why?" "Are you saying those in politics are not human beings?"  She said she is just begging me not to go into politics that they would mess me up. So, I said thank you. So people have their ideas.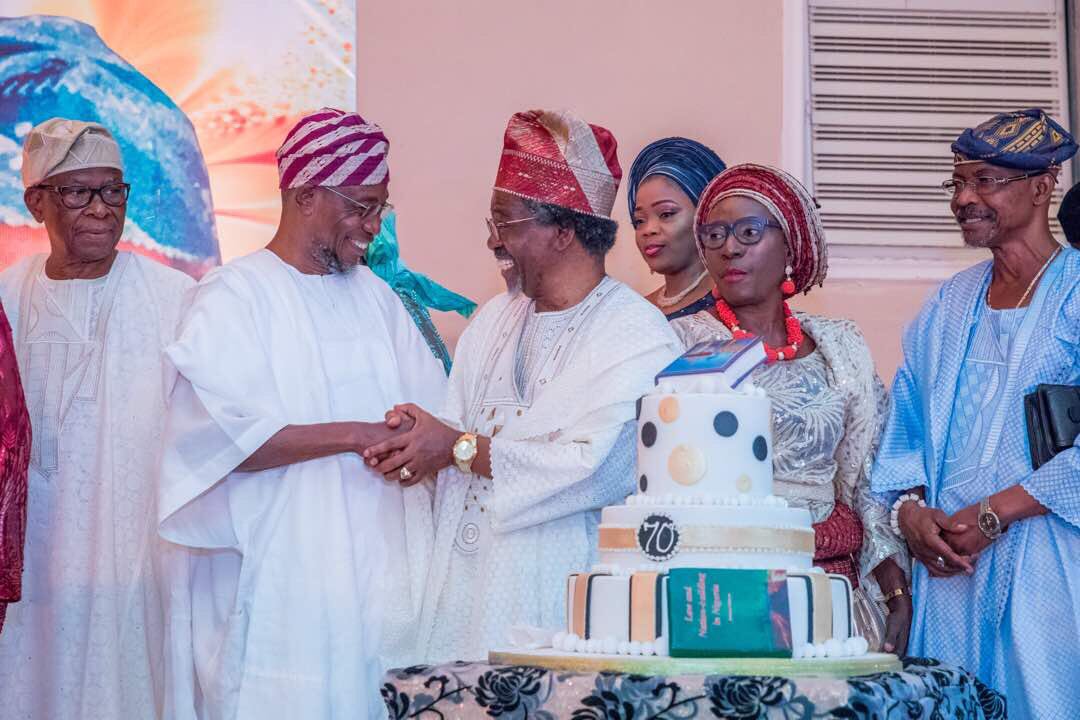 Finally and most importantly, I am very grateful to God. I was on admission in LUTH last year where I thought the end had come. In fact I actually told my sister I was prepared to meet my maker and she responded "but your maker is not prepared to meet you." So, I survived and that to me means my time is not up so there is a lot more to do. Some say I don't look 70 and I say to them I feel my age don't judge a book by the cover. I live every day at a time. I cannot make long range plans. I went to the 70th birthday celebration of one of my friends some time ago and the Archbishop climbed the pulpit and the first thing he said to my friend the celebrant was; "welcome to the departure lounge". And we said "what is that?" He said, "at 70 you have your boarding pass; you are just waiting for your flight to be announced." It was a poignant statement because what the bible ordained is three score and ten. So, every day after 70 is a bonus so you cannot make long range plans.  I told a friend that my daddy died at 75 and I plan to surpass him. He said, "yes you can plan but you are not in charge of how long you stay." Generally, I just relax and see how things progress. My ideas are not etched in granite, they are not frozen so I will take life as it comes. If I die now, people would say a life well lived. At 70 what else do you want? I am grateful to God that he is giving me the carriage. I don't look it, I am not tired. I lived an active life. I leave every other plan to the almighty.
DNL L&S: Thank you so much for accepting to talk to us Sir. Again we wish you a happy birthday in arrears now. We continue to pray to God to keep you and in your retirement may you find absolute peace and rest.
[espro-slider id=17536]